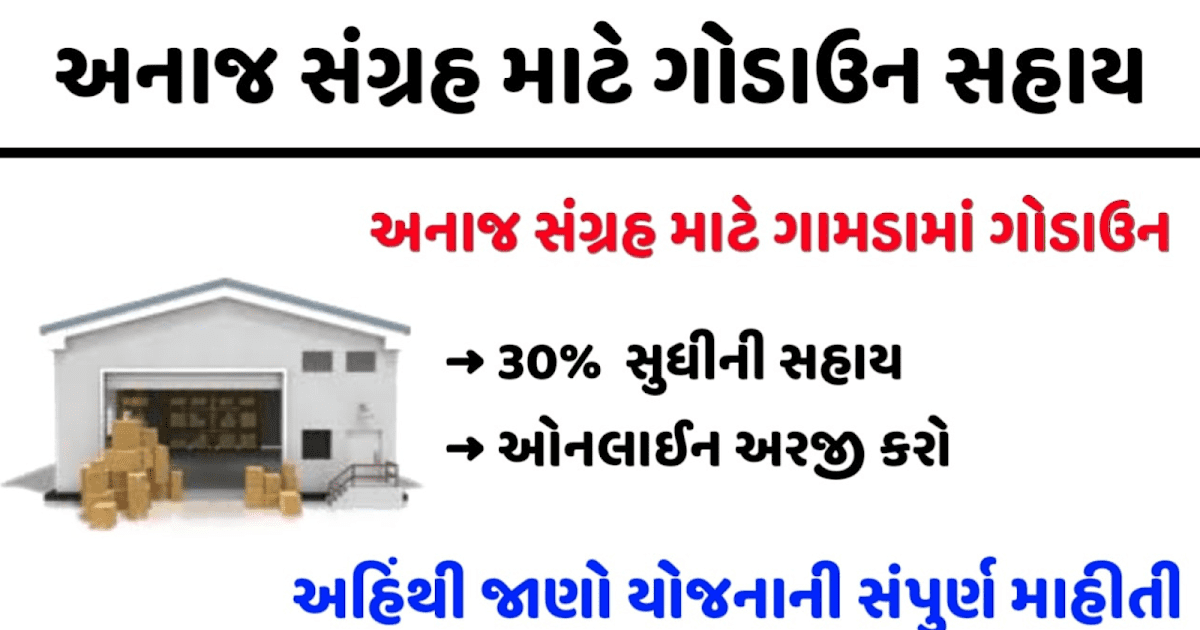 In a significant move to enhance the agricultural storage infrastructure in Gujarat, the state government has launched the Gujarat I-Khedut Godown Sahay Yojana 2023-24. This scheme aims to provide financial assistance to farmers for the construction of godowns and storage facilities on their farms. The initiative not only facilitates the preservation of agricultural produce but also ensures farmers' economic stability by minimizing post-harvest losses. In this article, we will delve into the details of the Gujarat I-Khedut Godown Sahay Yojana 2023 and its potential impact on Gujarat's agricultural sector.
Details of I-Khedut Godown Sahay Yojana
| | |
| --- | --- |
| Scheme Name | Godown sahay yojana 2023-24 |
| Introduced by | Government of Gujarat |
| Beneficiaries | Gujarat State Farmer |
| Application Mode | Online |
| Official Website | https://ikhedut.gujarat.gov.in/ |
| | |
Details of I-Khedut Godown Sahay Yojana
Objective of Godown Sahay Yojana
Promoting Agricultural Infrastructure: The scheme focuses on encouraging the construction of godowns and storage facilities to provide farmers with reliable storage space for their produce. By improving infrastructure, farmers can prevent losses due to spoilage, reduce wastage, and maintain the quality of their crops for extended periods.
Post-Harvest Loss Mitigation: One of the major challenges faced by farmers is post-harvest losses. The lack of proper storage facilities leads to spoilage, damage, and reduced market value of agricultural produce. This scheme intends to address this issue by providing financial support to farmers for constructing godowns, enabling them to store their crops safely.
Strengthening Farmer's Income: With efficient storage facilities, farmers can avoid distress sales during peak harvest periods when prices are typically low. By storing their produce and selling it at a more opportune time, farmers can potentially secure better prices, leading to increased income and improved economic stability.
Benifits of I-Khedut Godown sahay yojana
Improved Storage Infrastructure: The scheme aims to enhance storage infrastructure by providing financial assistance for the construction of godowns and storage facilities. This enables farmers to store their agricultural produce in a safe and secure manner, reducing post-harvest losses due to spoilage, damage, and pests.
Reduction in Post-Harvest Losses: Inadequate storage facilities often lead to significant post-harvest losses for farmers. By facilitating the construction of godowns, the scheme helps minimize these losses and preserves the quality of agricultural produce. This leads to better market value for the crops and increased income for farmers.
Enhanced Market Access and Pricing: With improved storage facilities, farmers gain greater control over the timing of their sales. They can store their produce during times of surplus and sell it when market conditions are favorable, thereby avoiding distress sales during periods of low prices. This strategy can result in better pricing for farmers and increased profitability.
Increased Income and Economic Stability: The I-Khedut Godown Sahay Yojana 2023-24 aims to strengthen the economic stability of farmers. By reducing post-harvest losses, enhancing market access, and securing better prices for their produce, farmers can generate higher income. This, in turn, leads to improved living standards, increased investments in farming activities, and overall economic growth in rural areas.
Facilitation of Agricultural Trade and Investment: The availability of quality storage infrastructure encourages agricultural trade and investment in the state. With reliable storage facilities, farmers can engage in value addition activities such as processing and packaging, leading to increased agricultural value chains and attracting private investment in the sector.
Food Security and Supply Chain Stability: The scheme contributes to food security by ensuring the availability of stored produce during periods of scarcity. Adequate storage facilities help in maintaining a stable supply chain, minimizing price fluctuations, and ensuring a continuous and reliable food supply for consumers.
Technological Advancements and Modernization: The I-Khedut Godown Sahay Yojana promotes the adoption of modern storage technologies and practices. This encourages farmers to embrace advanced techniques for pest control, humidity and temperature regulation, and efficient management of stored crops. It facilitates the integration of technology into the agricultural ecosystem, promoting sustainable and efficient farming practices.
Eligibility Criteria for I-Khedut Godown Sahay Yojana
Residency: The applicant should be a resident of Gujarat and possess a valid residential address within the state.


Land Ownership: The applicant must own agricultural land or possess a lease agreement for agricultural land in their name.


Farmer Category: The scheme is generally open to all categories of farmers, including small, marginal, and landless farmers who lease land.


Age Limit: There is typically no specific age limit mentioned in the eligibility criteria. Farmers of all age groups may be eligible to apply.


Bank Account: The applicant should have an active bank account in a recognized bank. The account details need to be provided for the disbursement of financial assistance.


Scheme Compliance: The applicant should adhere to the specific guidelines and rules of the I-Khedut Godown Sahay Yojana as prescribed by the Gujarat government.
Documents Required For I-Khedut Godown Sahay Yojana
Aadhaar Card: A copy of your Aadhaar card, which serves as identification proof.


Land Ownership Documents: Documents proving your ownership or lease agreement of the agricultural land where the godown will be constructed.


Bank Account Details: Provide the details of your bank account, including the account number and IFSC code, for the disbursement of financial assistance.


Identity Proof: Any government-issued identity proof such as a Voter ID card, Passport, or Driving License.


Address Proof: Documents such as a ration card, electricity bill, or telephone bill that establish your residential address.


Caste Certificate: In some cases, a caste certificate may be required to determine eligibility for certain reserved category benefits.


Income Certificate: A certificate that verifies your income level, which may be required to determine eligibility or subsidy amounts.


Photograph: Recent passport-sized photographs for identification purposes.


Site Plan: A blueprint or layout plan of the proposed godown site, showing the dimensions, location, and design of the structure.


Construction Estimates: Detailed estimates of the construction costs for the godown, including material costs, labor charges, and any other relevant expenses.
Steps of applying in I-Khedut Godown Sahay Yojana
Visit the Official Portal: Go to the official website of the Gujarat government's I-Khedut portal. Ensure that you access the updated portal for the current year's scheme.


Registration: If you haven't registered on the I-Khedut portal before, click on the "Registration" or "New Farmer Registration" link to create an account. Provide the required details, including your personal information, contact details, and bank account information.


Login: After successful registration, login to the I-Khedut portal using your credentials, such as username and password.


Scheme Selection: Once logged in, select the "I-Khedut Godown Sahay Yojana 2023-24" from the list of available schemes. Read the scheme details, eligibility criteria, and other related information.


Application Form: Fill out the application form for the Godown Sahay Yojana. Provide accurate and complete details regarding your agricultural land, ownership, and other necessary information as required in the form.


Upload Documents: Attach the required supporting documents along with the application form. These may include land ownership documents, identity proof, bank account details, and any other documents specified by the scheme guidelines.


Verification: Once you have filled out the form and uploaded the necessary documents, submit the application online. The authorities will then verify your application and the provided information.

Approval and Disbursement: After the verification process, if your application meets the eligibility criteria, it will be approved. Upon approval, the financial assistance for the construction of the godown will be disbursed to your bank account.


Construction and Reporting: Use the disbursed funds for the construction of the godown as per the specifications provided by the scheme. Keep track of the progress and completion of the project.


Scheme Benefits: After the successful construction of the godown, you can start utilizing the storage facilities to preserve and store your agricultural produce effectively. This will help minimize post-harvest losses and enhance your income.
FAQ Realted the I-Khedut Godown sahay yojana 2023-24
What is official website of Goddown Sahay Yojana
Goddown Sahay Yojana Application Mode
Godown Sahay Yojana form started Date
How much assistance is available under Chief Minister Crop Collection Scheme?